About Us
Technology & Facility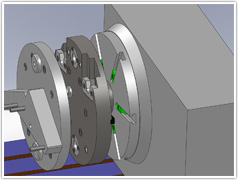 Manufacturing:
Multiple licenses maintained to the latest version:
SolidWorks
Unigraphics NX
SmartCam
GibbsCAM
We are able to import or export your models in most major data formats. The design of assembly, machining and inspection fixtures as well as visual tool path verification are often performed directly from your models.
Currently operating 23 CNC machine tools, Telcon utilizes the latest in metal cutting technology and processing. Utilization of touch probes enables adaptive machining and in-process part verification. Pallet changers, fourth axis rotary tables, custom fixturing, vacuum chucks and the latest technology in cutting tools are commonly utilized throughout our machining facility. We combine process technologies, cellular floor plan layouts, lean manufacturing principles and a motivated work force.
Business Systems:
Our ERP system is utilized throughout the organization, providing us with an integrated approach to all core manufacturing functions. Real time production status, powerful MRP and powerful scheduling and capacity planning facilitate the highest level of customer service.
Facility:
Located 30 miles Southeast of Cleveland, Ohio with quick access to I-480 or I-80.
Our facility is modern and clean. Initial construction completed in 1994. Most recent expansion was completed in 2007.
Total Manufacturing Area: 60,000 square feet
Dedicated assembly area: 15,000 square feet