Services
Supply Chain Management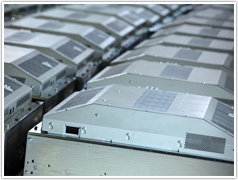 Adaptable to the requirements of each customer, Telcon has the expertise, flexibility and systems to apply many different SCM service options to control your inventory. We can help reduce your total cost and simplify your supply chain.
VMI, Kanban and Min/Max are commonly applied throughout our customer base. In some cases we are directly linked with customer demand forecasts and MRP data, completely eliminating your need to manage and plan delivery schedules.
Other common SCM services include:
BOM supplier takeover.
Supplier selection, development, & management.
Leveraging of purchasing agreements.
Continued WIP reduction programs.
Custom kitting and/or packaging.
Custom configuration allowing direct shipment to your customer.
Recyclable and returnable containers.
Telcon's flexible systems are adaptable to the requirements of each customer.